A. Marcilla | J. A. Labarta | M. M. Olaya
Chemical Engineering Department & Institute of Chemical Process Engineering, University of Alicante, Apdo. 99, Alicante, 03080, Spain.
Supplementary material: GRAPHICAL USER INTERFACE (GUI) FOR THE TOPOLOGICAL ANALYSIS OF CALCULATED GM SURFACES AND CURVES, INCLUDING TIE-LINES, HESSIAN MATRIX, ETC. FOR BINARY AND TERNARY LLE SYSTEMS (GMcal_TieLinesLL v.2.0)  (RUA 2015/20): http://hdl.handle.net/10045/51725.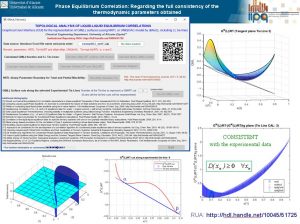 The 4th most cited article published in Fluid Phase Equilibria since 2017 (extracted from Scopus 11/2020).