Recientemente ha tenido lugar The First Biennial Iranian Studies Graduate Conference en la Universidad de St Andrews, con una importante participación de profesores e investigadores (Robert Hillenbrand, University of Edinburgh; Charles Melville, University of Cambridge; Sussan Bab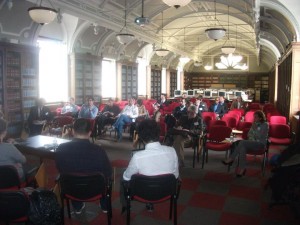 aie, Courtauld Institute of Art; Ali Ansari, University of St Andrews), y de estudiantes de doctorado. Hay que destacar que esta primera convocatoria del Symposia Iranica ha sido organizado por la Universidad de St. Andrews y financiado por un importante número de entidades culturales entre ellas Iran Heritage Foundation, British Institute of Persian Studies, Soudavar Memorial Foundation.
Entre los ponentes se encontraba la única representación de estudiantes de doctorado españoles todos de la Universidad de Alicante: la estudiante de doctorado Dolores Perpiñán Silla que presentó su trabajo de investigación "Some Aspects of Protocol at the Court of Shah 'Abbas"; y la también estudiante de doctorado Haila Manteghí Amín que presentó su trabajo de investigación "The Alexander Romance in the Khodāynāmag: A Search on the Pre-Islamic Alexander Tradition in Persia Through the Early Arabic and Persian Sources".
Tras las presentaciones se abrió un tiempo de debate y en ambos casos hubo un interesante debate e intercambio de ideas. Destaca especialmente el interés que generó el trabajo de investigación de la estudiante de doctorado Dolores Perpiñán Silla entre los asistentes y especialmente en el profesor Charles Melville. El trabajo de la doctoranda se centra en el protocolo en la corte safaví y en la corte española del siglo XVI y XVII, basándose en las fuentes persas y españolas de embajadores y viajeros.