The field trip of the he summer school course of the University Miguel Hernandez  entitled "Jimenez de Cisneros, pioneer in the geological and paleontological investigation in the Southern Alicante" took place on september 5th, 2019.
The participants visit the Los Molinos educative center and then waked along the dirt road to the Pouet de la Mel spring.
The fist photography show the conductor of this field trip will be our collegue José Enrique Tent-Manclús teaching the finimessinian transgressive surface on the background of the picture.
The second fotography show the all participants in the field trip near the Pouet the la Mel spring with the Sierra de Crevillente Jurassic at the back.
More information about the Crevillente course here.
Message from the Guest Editor
Dear Colleagues,
Several geological modeling studies on the geodynamic and paleogeographic Alpine (Eo-Alpine during the Cretaceous–Paleogene; Neo-Alpine during the Oligocene– Miocene) evolution of the Mediterranean have been published without consensus in the last four decades. Therefore, a Special Issue dedicated to "Tethayan to Mediterranean evolution" seems justified. Studies that consider the geodynamic and/or paleogeographic evolution of the entire Mediterranean area or a part of this area will be welcome. The proposal can be focused on stratigraphic, sedimentological, petrographic, or tectonic data, or geophysical interpretations and reconstructions based on principles of Plate Tectonics using GPlates or similar software. The papers that are published in this Special Issue can contribute to clarifying and updating the state of our knowledge about this controversial theme.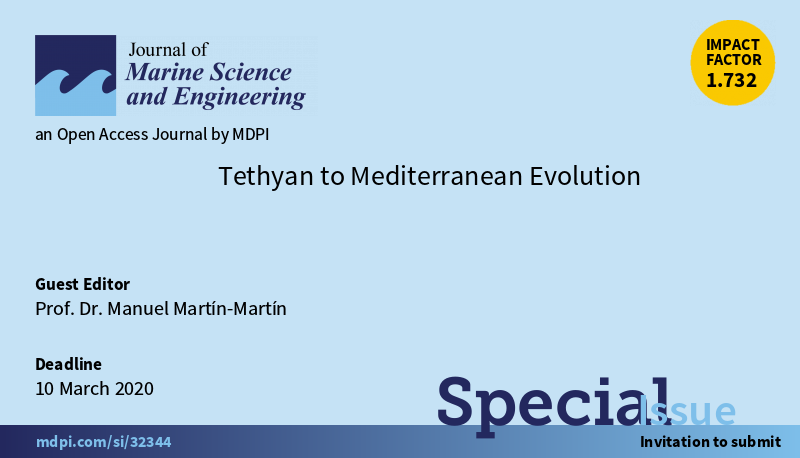 Message from the Editorial Board
T h e Journal of Marine Science and Engineering (JMSE; ISSN 2077-1312) is an international peer-reviewed open access journal which provides an advanced forum for studies related to marine science and engineering. The journal aims to provide scholarly research on a range of topics, including ocean engineering, chemical oceanography, physical oceanography, marine biology and marine geosciences. We invite you to publish in our journal sharing your important research findings with the global ocean community.
Open Access: free for readers, with article processing charges (APC) paid by authors or their institutions.
High visibility: Indexed in the Science Citation Index Expanded in Web of Science, in Inspec (IET) and in Scopus.
CiteScore (2018 Scopus data): 1.76, which equals rank 30/92 in 'Ocean Engineering', rank 105/288 in 'Civil and Structural Engineering' and rank 77/203 in 'Water Science and Technology'.
Guest Editor:
Prof. Dr. Manuel Martín-Martín
Earth sciences and environment
Department (University of Alicante). Campus Universitario del San Vicente del Raspeig, AP- 99, 03080 Alicante, Spain
manuel.martin.m3@gmail.com
Deadline for manuscript submissions:
10 March 2020